Teaching & Mentoring
Introduction to watercolours and developing your creativity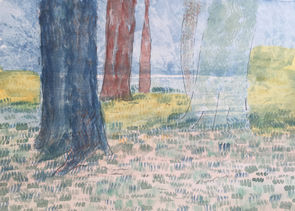 Starting
watercolor painting
doesn't need to be daunting; watercolour is a versatile painting medium that's been around even before the invention of watercolour sets in the 18th century or the influence of the English school that helped popularise the craft in continental Europe. With just a few simple art supplies and techniques, you'll be on your way to creating stunning watercolour paintings in no time.
From beginners to more experienced art enthusiasts, my one to one class means that everyone can receive the guidance and help needed to improve their technique and skills.These classes build confidence with a personal and supportive approach.
Each lesson lasts two and a half hours , i would recommend at least two classes so we can take these newly acquired techniques and develop them into more more finished pictures.
All materials will be supplied at the class but please feel free to bring along that favourite brush you might have.The lessons will take place at my studio at the well known Coburg House Studios situated in Leith,Edinburgh .
Thank you so much for all your help and for your patience while I tried to work through the process of unwinding and figuring things out!
I loved the way you helped me think about painting and seeing things in this awesome new way
Marguerite Beaty
-Marguerites blog on the classes...
Cost
£90 per lesson
Mentoring
I also offer a
mentoring
service for those struggling with motivation and self confidence.You may be finding difficulties coming up with ideas or even have an idea for a project but don't know where to begin .As an experienced fine artist , illustrator and teacher of 25 years, i can help you achieve your desired results. We can all find ourselves creatively stuck at times but with the help of another artists eye, knowledge and experience we can move the project in a positive direction. I will create a bespoke plan for you to follow, which is guided by your needs and will help you to develop your project and career.
As with the watercolour classes this will take place at my studio at Coburg House Leith
Cost
£35 per hour
If you wish to contact me regarding either the
watercolour class or mentoring
please use the contact form on this website.
Thank you